Colour theory actually covers a number of things, but the most basic level is the interaction of colours in a design through complement, contrast, and vibrancy.
The interaction of colours in a design through complement, contrast, and vibrancy – while the first part of this definition is simple (and admittedly soft), it is the last three terms that define the basic colour theory.
Checkout our services at DigWeb if you would like to have a unique website with a beautiful landing page and a digital business card!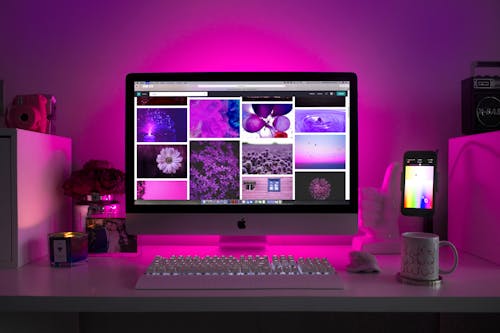 Complementation
Complementation refers to the way we perceive colours in terms of their relationship to other colours. When colours occupy opposite ends of the colour spectrum, they lead people to consider a visually attractive design by establishing a happy medium in which the eye can reside. Instead of straining to accommodate a particular area of the spectrum of colours, the balance of the eye is provided. There are two common complementary uses: the Triadic and the Compound colour scheme. Complementation can take you to new heights of design complexity as you can begin to master the intricacy of colour combinations.
Contrast
Contrast decreases the eye area and focuses user attention by clearly separating the elements on the screen. If you're still in question, the best practice is to use a very light colour for the background and a very dark colour for the text itself. It is one field where colour theory is vital to the usability of web design; in most projects, large text areas are not a place to try to be very creative-so keep it smooth and legible.
Along with the definition of readable text, contrast can also draw the viewer's attention to the specific features of a page. Think about highlighting a textbook: when you want to draw your attention to a particular part of the page, you make the surrounding area look different from the rest of the text. The same idea applies to Web design, which enables the user to concentrate attention on various page features by using a range of contrasting colours. Concentrate on the main content with a lighter colour if your website has a dark background.
Vibrancy
Vibrancy dictates the emotion of your design. Brighter colours, as a result of your design, make the user more excited. Especially when attempting to advertise a product or call for an emotional response. Darker colours calm the user so that they can focus on other things.
Three Steps to Choosing the Right Colours for your Website
The Dominant Colour
The dominant colour is the colour of your brand. This colour will help bring out certain emotions or feelings when people come to your website – just like passion, excitement, and boldness.
This is the colour of the day when you think of your audience.
If you have a logo already, make sure your dominant colour uses one of the key colours from your logo.
Various colours can attract different types of customers and can even alter the actions of consumers. You can also use different colours to your advantage so that the customer you want can be attracted to them.
You want to attract customers younger and more energetic or sophisticated, more disposable individuals? Are your products/services for men or women?
   

Not all the colours are right for your business. Use them wisely according to your product.

    You may want to consider using green (health, tranquillity), grey (simplicity, calm), blue (peace, calm), or even red (passion, energy).
 Just use your dominant colour in a few places. These can include the places where your customers will interact.
Basically, it's meant to "pop" your dominant colour – really emphasizing where your customers will concentrate.
Use of Accent Colours
Accent colours are so named because they highlight the features you want to show more on your website.
It's pretty dull to have only a single colour through your entire website. You need accent colours to highlight noteworthy sections of your website, such as quotes, buttons, or subtitles.

Accent colours are used for contents/items that are not the vital focal points of your website. But you still want them to stand out—for example, subtitles, secondary buttons, information boxes, background colour, etc.
Just try to limit to 1 or 2 accent colours. If there are so many accent shades, there would be too many focal points to confuse the guests.
Background Colours
Choosing a background colour is actually a lot like choosing a wall paint colour! You want visitors to your website to feel comfortable browsing your site. You don't want to annoy your visitors by using overly bold or bright background colours. This makes it very challenging to comprehend the text on your website.
Simultaneously, you don't want your website to be so difficult to understand. Here are some tips to properly assign colours in your website.
 

A white or light backdrop, bright dominant and accent colours, is the perfect colour scheme to use in e-commerce and informative websites.

The bold, assertive, and accent colours give the website personality and focal points, while the plain background colour keeps your visitors focused on your content or products.

When you want to create a proper brand identity, you should use the various shades of your dominant or company colour as your background colour.
Colour is closely related to brand awareness. If you have a very bold brand colour, it can be too distracting with your background colour. Consider choosing a lighter shade of your brand colour if that's the case.
   

There are really no rules for what background image or colours you should use when designing a website for fashion, beauty products, restaurants, or creative industries.

You can use a black menu bar to create more drama, or you can make an inspiring background picture using all the rainbow colours.

   

When in doubt, use white or very light grey as your background colour. Although it may not be the most inspiring colour, you know that your content will always shine through.